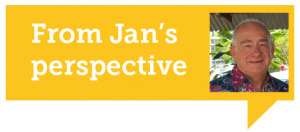 Dear Friend of the persecuted Church,
As we step into 2018, I reflect on the past year and ponder the year ahead.
Looking back at 2017, we saw the Lord at work on many fronts. Amid the war in Syria and Iraq, for example, He often used dire circumstances to draw people to Him. And despite incredible persecution, the Church has grown in some of the most hostile environments.
This reminds me of the late Pastor Samuel Lamb from China, who said, "More persecution, more growth." He witnessed this in his own church, which grew when he was released from prison.
The work the Lord has done in the persecuted Church over the past year, brings to mind Psalm 40:5, "Many, LORD my God, are the wonders you have done, the things you planned for us."
When I read this verse, I get excited about the many wonders the Lord is going to do this year, and the things He has planned for our persecuted brothers and sisters.
And as we serve them in 2018, I'm thankful for faithful friends like you who are instruments in the hands of the Lord. Your prayers and gifts are such an encouragement to so many!
As we walk this journey together in the new year, I pray the Lord will renew your strength daily – and you "will soar on wings like eagles" (Isaiah 40:31).
Together in His service,

Jan Gouws
Executive Director
Open Doors Southern Africa