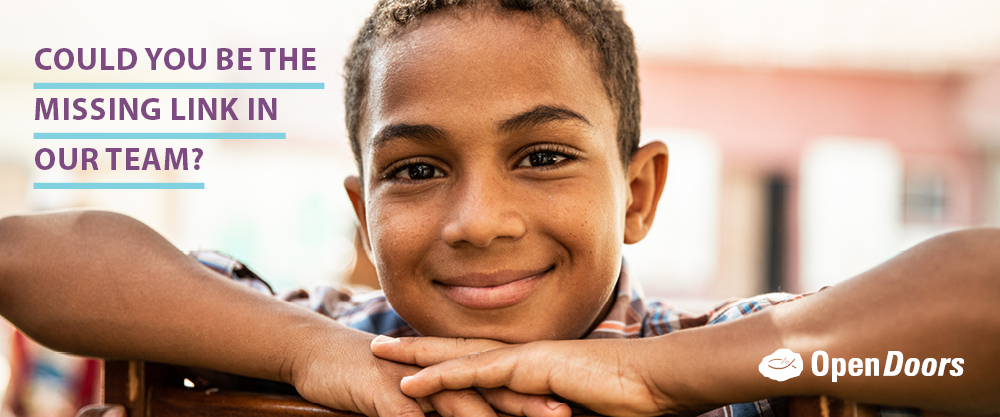 The following position is currently available
Role Title: Data Analyst
Work Environment: Open Doors Field Operations consists of full and part time staff in South, East and West Africa, as well as the Netherlands. The staff engage in activities to support the persecuted Church in Sub Sahara Africa (SSA). Through our activities we aim to strengthen the local capacity of the Persecuted Church and work with the local Church as our partner.
Location: This role will be based in South Africa, Johannesburg. All applicants should be able to travel to countries across the region without any restrictions, for up to 40 days per year, as required by the needs of the role.
Purpose of the Role: To help the Operations team make informed decisions using data analytics. The role will require you to develop appropriate data assets to guide decision-making. Use data analytics to gain insights for operational intervention, track strategic data achievement, and highlight areas for improvement and operational changes. Also, develop ratios to monitor budget and reach levels as well as highlight persecution insights and trends. Use data analysis to inspect, clean up, transform, and model data to help gather useful information that will support decision-making.
Time Commitment: A full-time position (40 hours per week)
Key Responsibilities
1. Ensure delivery of data in usable format:
IOP Dashboards are developed, transition to Power BI;
Monthly finance dashboards showing use of budget vs actuals rolling up from program, to country to sub region and regionally from FIMS;
Present evolving persecution situation in terms of geo location, type pf persecution, overlay ACLED and other sources of data, closing data gaps;
Dashboards presenting RSP & GSP data;
Consolidating persecuted numbers, RSP numbers and locations checking previous data and assessing accuracy of data;
Ensure data provided is reliable and of sufficient quality to be used;
Provide relevant regional data (trends, demographics, persecution levels etc.) to strategy processes;
Tracking of data to inform RSP & GSP progress;
Tracking of beneficiary data and suitable systems for collection;
Develop platform for all data collection and dissemination i.e. SharePoint, power bi portal, SSRS portal etc.
2. Provide specialised business analysis to AFSLAB:
Encourage an org wide culture of data driven decision making;
Determine process flows for data generation and collection;
Design system / platform for collection of said data;
Develop effective Processes and Systems for data collection;
Operationalise RSP & GSP data collection methods & tools;
Design data collection for project and fin data integration and presentation;
Determine parameters for data quality;
Represent region in systems and data work groups as required;
Develop ratios for GC vs program costs and monitoring of these;
Scenario planning to see possible future options based on changing and varied circumstances;
Integrate research data (persecution trends, IOP etc) with program related data.
3. Pilot and Development of cutting edge technology:
Assess use of AI and potential for data discovery and projection of future trends;
Develop pipelines, data transformations, big data platforms;
Other emerging tech as and when possible.
Key Skills and Experiences
1. Key Qualities (Personality, Character, Calling, Culture):
Committed to Jesus Christ with a calling to serve the Persecuted Church;
Servant attitude with focus on cooperation;
Attention to detail and focus on accuracy;
Willing to support staff and 'go the extra mile' in times of need.
2.Key Skills and Experiences:
Higher level of education;
Minimum of 3 years of business analysis experience;
Formal qualification in business analysis;
Experience in drafting data requirements and conducting needs assessments;
Experience developing reports & dashboards ideallyon Microsoft platform and tools;
SQL experience;
Understanding of ministry dynamics in Africa;
Excellent analytical, technical & problem-solving skills;
Ability to manage multi-cultural team and keep them accountable to agreements/results;
Good planning and organizing skills;
Structured, organized and effective in delivering work on time;
Cross culturally sensitive and able to build relationships in different cultures;
Fluency in English; speaking and writing;
Strong knowledge in processing and use of data for decision making;
Good networking and relationship building skills
Job Dimension
The role is part of the RDS team in the SMD department of AFSLAB;
Is accountable to the RDS Manager. 
Key Relationships:
Accountable to Regional Manager RIS with a direct reporting line for overall performance, planning, support and guidance;
Consult and collaborate and Liaise with Sub Regional Managers & sub regional / country research staff;
Consult and collaborate with Program Support Team & Functions in the Region & Sub Regions;
Consult and collaborate with various global Work Groups that deal with systems and data impacting the region;
Consult and collaborate with Head Office Departments & Teams that generate required data.
Key Qualities
Committed Christian with passion to serve the Church;
Ability to keep strict confidentiality;
High level Professionalism;
Cross-culturally sensitive and knows how to build relationships in different cultures;
Able to manage own workload, prioritise and respond well under pressure.
How to apply?
Please apply for this position by submitting your CV and one A4 page that briefly outlines what you bring to this role and how God has prepared you. We also would like to receive references from your previous employer(s) and local church. Please ensure that your application reach us at [email protected] no later than 22 July 2022.
Further information can be obtained from the abovementioned email address.