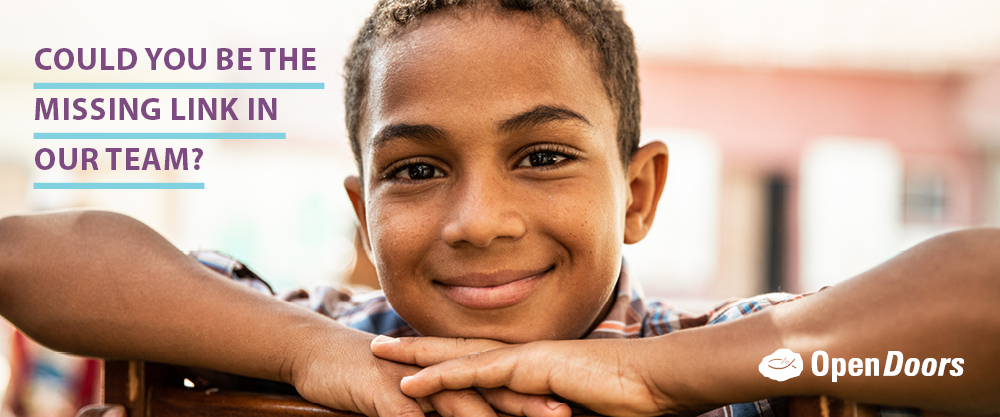 Church Volunteer and Administration Assistant Southern Africa

The following position is currently available
Role Title: Church Volunteer and Administration Assistant Southern Africa
Work Environment: Open Doors Southern Africa's (ODSA) Code of Conduct and policies set expectations for all our staff. Everyone at ODSA is responsible for workplace safety both in terms of their own behaviour and taking action to resolve safety issues they become aware of. ODSA is committed to safeguarding children, the prevention of sexual exploitation, abuse and any kind of bullying or harassment. ODSA uses child-safe recruitment and screening practices and requires staff to complete due diligence checks Police Checks and to advise ODSA of any changes to their circumstances regarding Safeguarding related offences, during the term of their engagement. The Church Volunteer and Administration Assistant always carry out their responsibilities with due regard to ODSA's Safeguarding Policies and Guidelines. ODSA values diversity and each staff member is expected to demonstrate a commitment to gender equality.
Location: This role will be based in Johannesburg, South Africa. All applicants should be able to travel to countries across the region without any restrictions, as required by the needs of the role.
Purpose of the Role:
The Church Volunteer and Administration Assistant is integral to Open Doors Southern Africa's wider Church and volunteer strategic plan. Focusing on working closely with partners (volunteers, influencers, supporters, stakeholders, churches, leaders) this position is aimed at mobilising current- and future partners of ODSA in Southern Africa to become increasingly more active in responding to issues of persecution.
As the Church Volunteer and Administration Assistant of ODSA you will –
Manage large amounts of inbound and outbound calls in a timely manner.
Follow communication "scripts" when handling different topics.
Identify supporters' needs, clarify information, research every issue and provide solutions and/or alternatives.
Seize opportunities to arrange meetings for the Church Engagement team and/or volunteers when they arise.
Build sustainable relationships and engage partners through exceeding their expectations.
Keep records of all conversations in our CRM database in a comprehensible way.
Frequently attend educational seminars/training to improve knowledge and performance level.
Meet set personal/team qualitative and quantitative performance standards.
Execute key ODSA Events and Fundraising campaigns.
Do and complete all relevant administrative task.
Supporting volunteers with a specific focus on African languages.
Other duties as assigned
Time Commitment: A part-time position (25 hours per week)
Key Responsibilities
Presence Ministry
Coordination of annual planning of Travel to our region;
Coordinating trip routines like program design, preparation of relevant documents, risk assessments, briefing of field team, travelers and/or Development reps, debriefing, feedback, and learning.
Overseeing logistics: visa applications, booking, etc.
Overseeing post travel content approvals
Speaker engagement (In person and online)
Act as first contact and oversee the process of offering staff and non-staff speakers for online and in-person speaking engagements (identifying speakers, receiving requests, liaising with field stakeholders, communicating decisions), and ensure it supports the planned content cycle. With speakers we mean those who can address:
Media: Secular and Christian

Advocacy: politicians, influencers
Supporters: mass communications online and in-person events (sometimes combined)
Strategic relations: church leaders, major donors, etc. (often confidential briefings or private meetings)

Design and/or maintain workflows to ensure that speaking engagements happen safely and securely (platform design, risk assessments, speaker briefing)
Provide content support (advise on focus, provide relevant PPT support, including relevant audio-visuals)
Train & coach speakers in dealing with the different audiences they would face (focus, etiquette/protocols).
Oversee Logistics: visa applications, bookings, etc.
Identify and train staff and non-staff spokespeople to be available to support rapid response and real-time content cycles
Design and maintain workflow and platform for safe interaction with international media
Key Skills and Experiences
Committed Christian with a passion for serving the Persecuted Church;
Bachelor's degree in Communications with special focus on journalism, public relations, or marketing.
Proven ability and experience in engaging news media.
Proven ability to think both creatively and strategically.
Proven written and verbal communications skills.
Ability to think creatively and strategically
Deadline-oriented, inquisitive, with great follow-up and reporting skills, and attention to detail
Multi-tasker not easily frustrated by short notice changes
Ability to think both creatively and strategically, and troubleshoot with optimism and urgency.
Key Qualities
Committed Christian with passion to serve the Church;
Ability to keep strict confidentiality;
High level Professionalism;
Cross-culturally sensitive and knows how to build relationships in different cultures;
Able to manage own workload, prioritise and respond well under pressure.
How to apply?
Please apply for this position by submitting your CV and one A4 page that briefly outlines what you bring to this role and how God has prepared you. We also would like to receive references from your previous employer(s) and local church. Please ensure that your application reach us at [email protected] no later than 19 September 2022.
Further information can be obtained from the abovementioned email address.