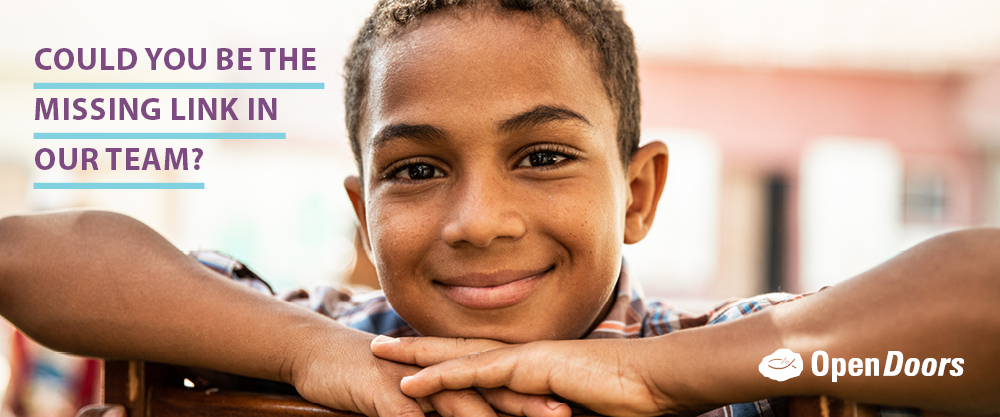 Working for Open Doors is so much more than just a job. When you join our team as an employee or volunteer, YOU have the opportunity to help strengthen the body of Christ… Even in the most dangerous places on the planet.
Use your skills. Develop your knowledge. Help the Church. Strengthen your faith.
The following position is currently available
Role Title: Church Volunteer and Administration Assistant Southern Africa
Time Commitment: A part-time position (25 hours per week)
Location: This role will be based in Johannesburg, South Africa. All applicants should be able to travel to countries across the region without any restrictions, as required by the needs of the role.
Purpose of the Role:  The Church Volunteer and Administration Assistant is integral to Open Doors Southern Africa's wider Church and volunteer strategic plan. Focusing on working closely with partners (volunteers, influencers, supporters, stakeholders, churches, leaders) this position is aimed at mobilising current- and future partners of ODSA in Southern Africa to become increasingly more active in responding to issues of persecution.
As the Church Volunteer and Administration Assistant of ODSA you will:
Manage large amounts of inbound and outbound calls in a timely manner.
Follow communication "scripts" when handling different topics.
Identify supporters' needs, clarify information, research every issue and provide solutions and/or alternatives.
Seize opportunities to arrange meetings for the Church Engagement team and/or volunteers when they arise.
Build sustainable relationships and engage partners through exceeding their expectations.
Keep records of all conversations in our CRM database in a comprehensible way.
Frequently attend educational seminars/training to improve knowledge and performance level.
Meet set personal/team qualitative and quantitative performance standards.
Execute key ODSA Events and Fundraising campaigns.
Do and complete all relevant administrative task.
Supporting volunteers with a specific focus on African languages.
Other duties as assigned
Work Environment: Open Doors Southern Africa's (ODSA) Code of Conduct and policies set expectations for all our staff. Everyone at ODSA is responsible for workplace safety both in terms of their own behaviour and taking action to resolve safety issues they become aware of. ODSA is committed to safeguarding children, the prevention of sexual exploitation, abuse and any kind of bullying or harassment. ODSA uses child-safe recruitment and screening practices and requires staff to complete due diligence checks Police Checks and to advise ODSA of any changes to their circumstances regarding Safeguarding related offences, during the term of their engagement. The Church Volunteer and Administration Assistant always carry out their responsibilities with due regard to ODSA's Safeguarding Policies and Guidelines. ODSA values diversity and each staff member is expected to demonstrate a commitment to gender equality.
Appointment process and how to apply:
Please apply for this position by submitting your CV and application form below. We also would like to receive references from your previous employer(s) and local church. Please ensure that your application reach us at  [email protected] no later than 21 October 2022.
Further information can be obtained from the abovementioned email address.