| | | |
| --- | --- | --- |
| Country rank | | 50 |
| Last year's rank | | 46 |
| Region | | Asia |
| Population | | 33 289 000 |
| Christians | | 3 028 000 (9.1%) |
| Main Religion | | Islam |
Every ethnic Malay is expected to be Muslim, according to the country's Constitution. Those who convert to Christianity break the law and run headfirst into severe pressure from their families and communities. Converts are seen as betrayers of all that Malay society values most. All non-Muslim religious groups are watched by the authorities, as are non-governmental organisations, but the greatest focus is on non-traditional Protestant groups because these groups are more likely to actively testify about their faith, which is illegal.
Tumultuous Malaysian politics in recent years have resulted in more of an emphasis on conservative Islam and have made radical factions feel freer to make statements opposing religious and ethnic minorities, including Christians. Converts from Islam to Christianity experience the most pressure and hostility of any group in the country.
What changed this year? As Malaysia swings more deeply toward radical Islamic belief and practice, the potential for Christian persecution increases. There is less tolerance, or even hope of tolerance, with the new government than in past years.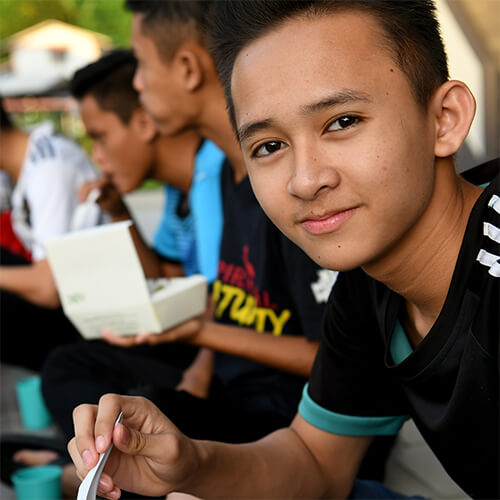 Meet "Reina"
Reina heard stories about Jesus and was fascinated. When a local partner gave her a Bible in her own language, her fascination turned to faith. But she was frustrated by not being able to share her faith effectively with her illiterate husband and children. Then the partner gave Reina a USB stick with a complete audio Bible in her language, plus a PDF copy of the Bible and videos of the four Gospels. Now she is able to share Jesus with her family in a way they can understand.
Pray for Malaysia
Pray with the people of Malaysia who would rather follow Jesus than stay within their country's religious laws. Ask God to bring them the spiritual nurturing they need in their isolation.
The pendulum of politics in Malaysia has swung away from religious freedom and safety for Christian converts. Pray for religious freedom and a more even-handed application of laws and principles.
Ask the Lord to gift more partners with creative ideas, such as USB sticks and audio Bibles, to get God's Word and other faith-building materials into the hands of believers and seekers in Malaysia.
What does Open Doors do to help Christians in Malaysia?
Overt Christian work and ministry aren't allowed in Malaysia – but Open Doors recognises that the greatest weapon in this or any other nation is intercessory prayer for the believers. Open Doors raises awareness of the situation for Christians in Malaysia and provides specific prayer points to help the worldwide Church remember and lift up Malay believers. We also work with ministry partners to supply and distribute Bibles and discipleship materials.
SIGN UP for our weekly World Watch List prayer update